Feeds
Feeds are a great way to discover new research. With feeds, you can subscribe to updates from a journal, website, publisher, institution, research group, or other source and quickly find new articles or works. If you find an item in a publication's feed that you want to save and read further, you can add it to your Zotero library with the click of a button.
Subscribing to Feeds
To subscribe to a feed, click the Add Library button above the left pane in the Zotero window. You can add feeds in two ways. First, you can add a feed using the URL provided on the journal's (or other source's) website. For journals, these are usually available from the journal homepage. Look for the RSS icon (
) or search for the journal name and "RSS feed" in a search engine. Many publishers place the RSS icon next to social media buttons or email alert links.
| RSS Links on ScienceDirect | RSS Button for Sage Journals |
| --- | --- |
| | |
Once you've found the RSS feed URL for your source, click the Add Feed menu, then choose "From URL…". The Add Feed window will open. Paste the RSS feed URL to the URL text field. If the URL is for a valid feed, you will be able to enter a title for the feed and click "Save". You can click "Advanced Options" to adjust how frequently a feed updates and to set how long read and unread items are kept in a feed before being removed.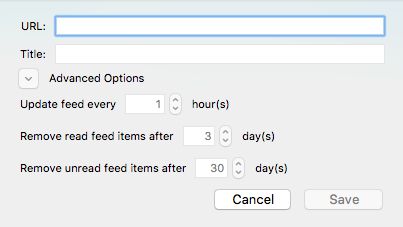 You can also import a set of feeds using an OPML file (e.g., from a list of subscriptions exported from Feedly or other RSS Reader services). To import an OPML file, choose "From OPML…" from the Add Feed menu.
Reading Feeds
Feeds you have subscribed to will appear at the bottom of the left pane of the Zotero window, below My Library and your Group Libraries and above the tag selector. Click on a feed to view currently available items in the feed. Right-click on a feed to manually refresh it, mark all items in the feed as read, modify feed settings, or unsubscribe from the feed.
When viewing a feed, unread items will be shown in bold text, while read items are shown in regular text. When you select an item in the feed, you can mark it as read or unread by clicking the "Mark As Unread/Read" button or pressing the ` key. Save the item to your Zotero library by clicking on the "Save to My Library" button or pressing Ctrl/Cmd-Shift-S. You can save a feed item to a group library by clicking the dropdown arrow on the right side of the "Save to My Library" button and choosing the group library.
Note, the read/unread state of items is not synced across computers when using Zotero sync.